PRESS RELEASE
DECEMBER 2022
Maria Villablanca, CEO and Co-Founder of Future Insights Network, has been named in the list of top 10 most recognized women entrepreneurs to follow in 2022.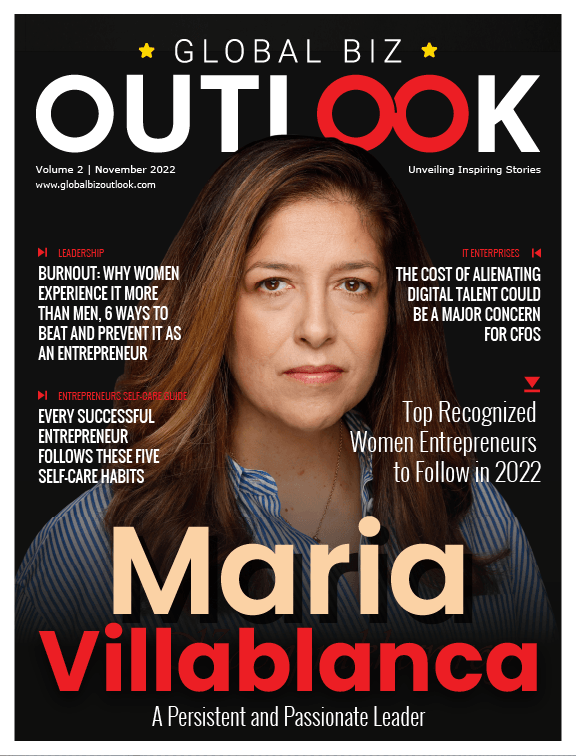 This recognition comes from Global Biz Outlook, the global magazine dedicated to providing best business practices of leaders all over the world.
As CEO of Future Insights Network, the collaborative content, events, and learning network for supply chain leaders, Maria has been announced as the cover story for the issue, featuring her interview surrounding her approach as a persistent and passionate leader.'
Maria commented on her recognition: "any recognition as a woman in business is an honor. No entrepreneur is without their challenges, but as I say in the interview, as women, we often have the odds stacked against us, making success in whatever form that bit sweeter."
Maria's work within Future Insights Network and her podcast, Transform Talks, is all about cutting through the noise within the supply chain industry to provide honest, educational, and actionable insights to practitioners worldwide.
As a thought leader, Maria has conversations every day with people from every aspect of the supply chain that helps inform her and the rest of Future Insights Network's offerings.
Maria added: "If we don't talk about the issues we face within our industry, we will never get anywhere. And with big targets on the horizon and volatility continuing to cause turbulence, these conversations are more important than ever.
I have conversations daily with people spanning all industries, and what I often hear is a sense of confusion amid the constant hype that is pushed our way. Being recognized among the other powerful women as the most recognizable entrepreneurs cements the fact that the work we do at FIN is providing that necessary clarity across the board, which I'm incredibly proud to be leading."
Future Insights Network's mission is to provide clarity to its network of over 130,000 supply leaders and beyond to drive the necessary benchmarking and upskilling to strengthen the industry from the inside out. As we enter 2023, Maria Villablanca and the rest of the Future Insights team will continue to deliver value to the supply chain community by bringing the industry the case studies, insights, and connections needed for thriving as a modern-day supply chain and manufacturing leader. 
The full interview can be read here.
ENDS