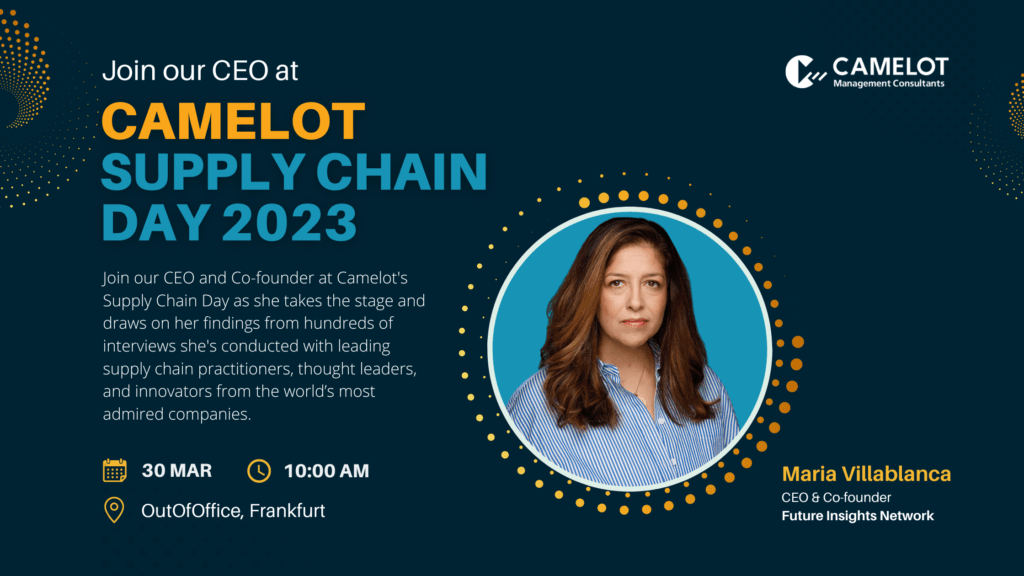 London – Future Insights Network, the leading digital media platform for supply chain, manufacturing, logistics, and business operations leaders, is proud to announce that its CEO and Co-Founder, Maria Villablanca, will be speaking at the Camelot Supply Chain Day conference in Frankfurt on the 30th of March. 
Camelot Consulting Group's Supply Chain Day will draw a senior audience of supply chain leaders from some of the world's most admired companies in the manufacturing industry, showcasing insights and use cases on next-generation planning, risk-aware planning, and decision-making, and the end-to-end integration of planning and execution.
Drawing on the hundreds of interviews she's conducted on the supply chain transformation podcast Transform Talks; Maria will be delivering an opening keynote that addresses the supply chain challenges faced and strategies deployed by the world's best supply chain organizations. Later in the day, Maria will also be moderating a panel discussion on whether S&OE is the missing link to better-performing supply chains with the Bjoern Neal Kirchner (Corporate VP of Supply Chain Management at Henkel), Laurent Morineaux (VP Supply Chain at Wacker Chemie AG) and Dr. Franz Merath (SVP Supply Chain and Business Process Management at Evonik).
"Every week, I interview an industry leader on some of the most pressing topics in supply chain and business transformation on the Transform Talks podcast. I'm really looking forward to sharing the insights I've gained across hundreds of interviews I've conducted over the past couple of years at Camelot's Supply Chain conference," said Maria Villablanca, CEO and Co-Founder of Future Insights Network.
To learn more about the conference and book your space, please visit www.camelot-mc.com/event/camelot-supply-chain-day-2023/.
About Future Insights Network
Future Insights Network is a digital media platform that connects supply chain, manufacturing, logistics, and business operations leaders with the latest trends, technologies, and best practices in their field. With a global network of 130,000+ members, Future Insights Network provides a valuable resource for professionals looking to stay ahead of the curve in today's rapidly changing business landscape.
Contact:
Ella Wilkinson
Future Insights Network
ella@futureinsights.org